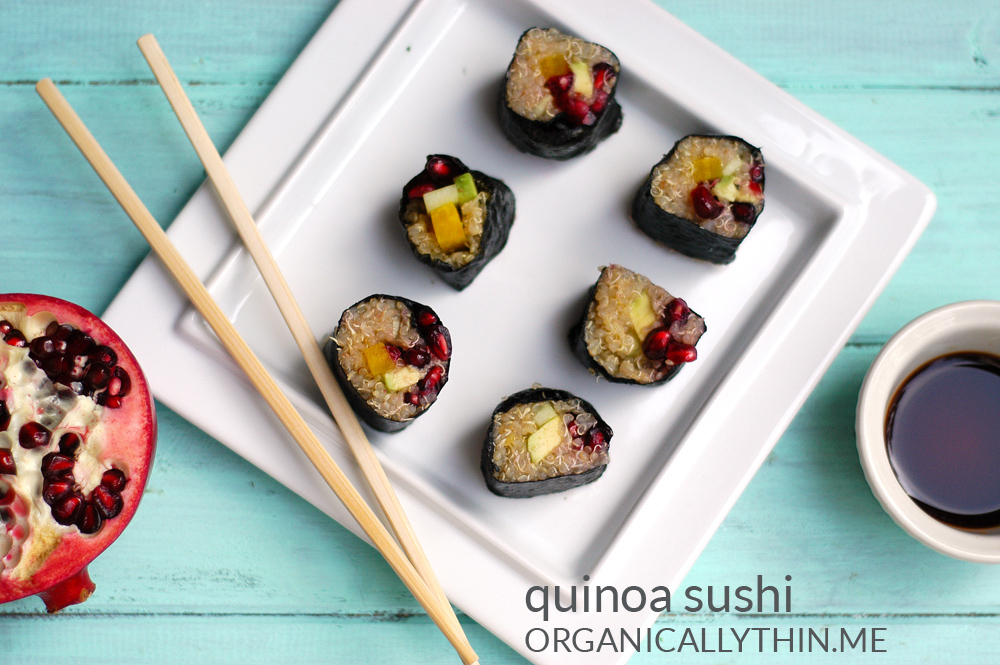 Eureka!! These are amazing, I promise you that, and completely guilt free. These are super nutritions, low-fat, low-calorie, low-carb, vegan, and immune boosting. If you want, you can technically call these "grain-free", as quinoa is really a seed not a grain. I know I have talked about quinoa before, but just to mention it again…quinoa is a perfectly complete protein containing all 9 essential amino acids. Which is important, we need these for good health.
Rinse your quinoa, as there is a natural coating on the seed called saponin that has a bitter taste.
Prepare the quinoa according to the package directions and just use a tad less water so that your quinoa is nice and dry which will be better for sushi making.
Mine was a little bit too wet so I set it in a large mesh strainer over a bowl in the refrigerator to drain out the moisture.
I like to do 1 cup quinoa to 1 3/4 cups water add pinch of salt, once the quinoa boils lower and cover, cook for 15 minutes.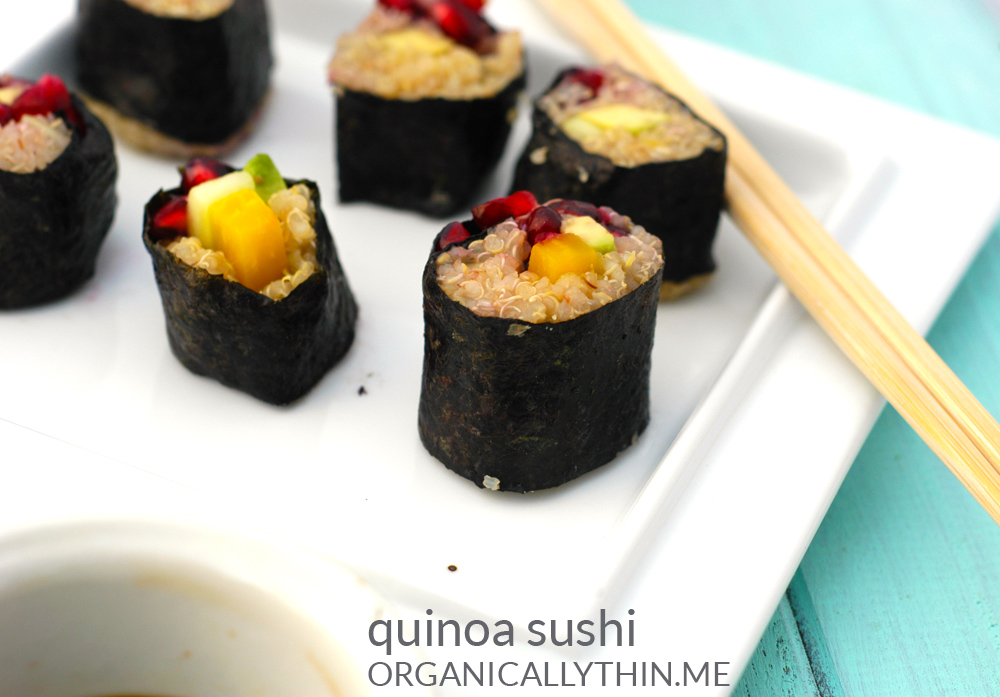 Cooked quinoa
1/4 cup rice wine vinegar
1/4 cup agave nectar
1/4 tsp salt
6 sheets of nori (I like to buy nori from Maine to avoid any potential radiation contamination)
2 sliced avocados
1 english cucumber sliced
2 roasted beets cut into strips
1 pomegranate seeded
Cook quinoa, drain for about 10 minutes in colander if its wet. Combine vinegar, agave and salt in large mixing bowl. Add quinoa and stir to combine. Place quinoa in a strainer and set over bowl and cool in the fridge about 30 minutes or until cool.
Cover sushi mat with plastic wrap. Start with nori, shiny side face down. Add cooled quinoa, layer your veggies and roll. Cut into 6 pieces (6 pieces are about 215 calories)