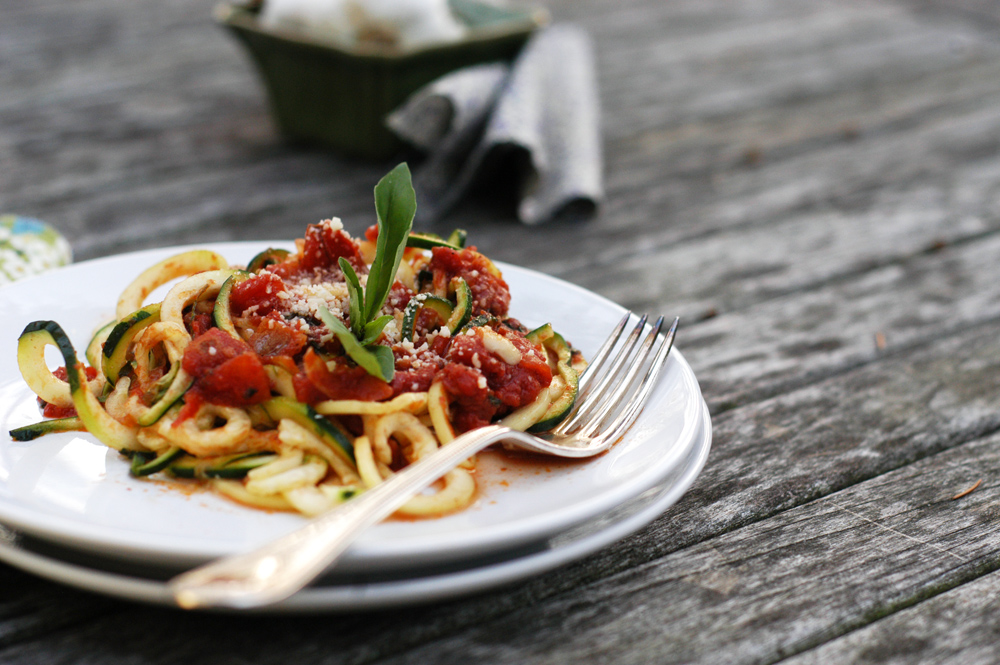 This is a great recipe to make either as a side-dish or as a meal. Listen, if we want to be healthy and lean we need to increase the amount of plant based foods that we eat. This recipe is quick and easy, and only takes about 20 minutes. You need a spiralizer though to make the linguine ribbons out of the zucchini.
2 zucchinis, spiralized then sprinkled with a little coarse salt. Let zucchini sit in a mesh strainer, or on paper towel to drain.
1 small onion, chopped
6-8 cloves of garlic, smashed
6 tbs olive oil (enough to generously coat the bottom of your large sauté pan)
1 box or can (BPA-free) crushed tomatoes
10 leaves of basil, cut chifonade
1/8 cup red wine optional
salt and pepper
Start by adding olive oil to large sauté pan. On medium heat, sauté the onion and garlic until light golden brown, stirring occasionally. Season with generous pinch of coarse salt and black pepper, you can also add red pepper if you like. Add basil, red wine. Let red wine cook off. Add tomatoes, adjust for more salt and pepper. If you are feeling indulgent, add several more tablespoons of really good olive oil to the sauce at the end. Add the "spiraled" zucchini to the pan, toss and let heat through for about 3 minutes. Remove to plate with tongs. Grate or shave a little imported Peccorino Romano cheese…this adds a delicious salty richness, of course it's optional.