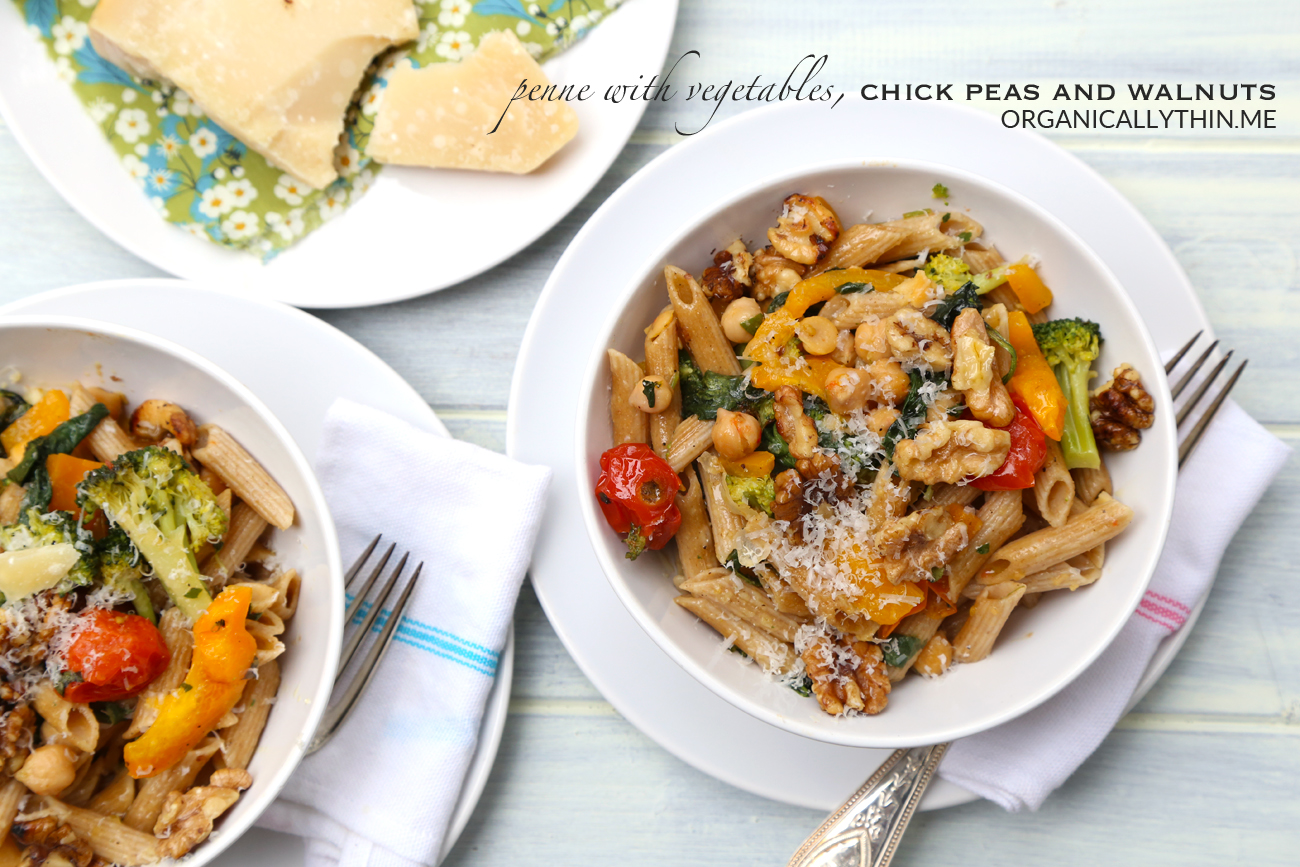 I love pasta, and if eaten in small amounts, balanced with protein and fat, it can be a great skinny dinner. This pasta takes about 30 minutes to prepare, it's so very easy, most of the time is spent waiting on the veggies to cook in oven.
Serving size:
1 very large overflowing cup
Ingredients:
1/2 lb whole wheat pasta
2 heads of broccoli, cut into small florets
1 large bunch fresh spinach leaves or 1 bag
3/4 cup walnuts
2 red or orange bell peppers, cut into 2″ pieces
8 cloves or garlic whole but smashed
8 tablespoons of olive oil
1/4 cup grated Pecorino Romano (or parmigiana) cheese
handful of italian flat leaf parsley chopped
8 basil leaves chopped
salt & pepper to taste
1 tablespoon garlic powder
Preheat oven to 400Ëš. Put a large pot of generously salted water up to boil. What do I mean by generous? Oh, I don't know a few tablespoons into a large pasta pot. The water should definitely taste salty, like the sea.
In a large mixing bowl add your smashed cloves of garlic, all your veggies, walnuts and chickpeas. Season with a large pinch salt and black pepper and 1 tablespoon garlic powder and 6 tablespoons of your olive oil. Transfer these ingredients to a parchment lined, rimmed baking sheet. Your veggies should look well seasoned with olive oil, if it looks like they are too dry you can add another drizzle of olive oil for sure. Pop these in your hot oven for about 25-30 minutes until everything is starting to get a little golden. (My rule of thumb, when cooking in the oven.. peek after about 10 minutes and make sure that nothing looks like its burning, you may need to lower it to 375… I also like to use my convection, but beware it does kick things up so you need to check often.) Now, 10 minutes into the cook-time for your veggies you can go ahead and throw your pasta into your boiling-salted water. Cook pasta for about 9 minutes. Drain and return pasta to the empty pot. Drizzle pasta with plenty of olive oil so it does not stick together, add chopped basil and parsley to pasta. Add all of the roasted veggies, chick peas, walnuts and garlic to the pasta along with a nice amount of black pepper and 1/4 cup grated Pecorino Romano cheese.