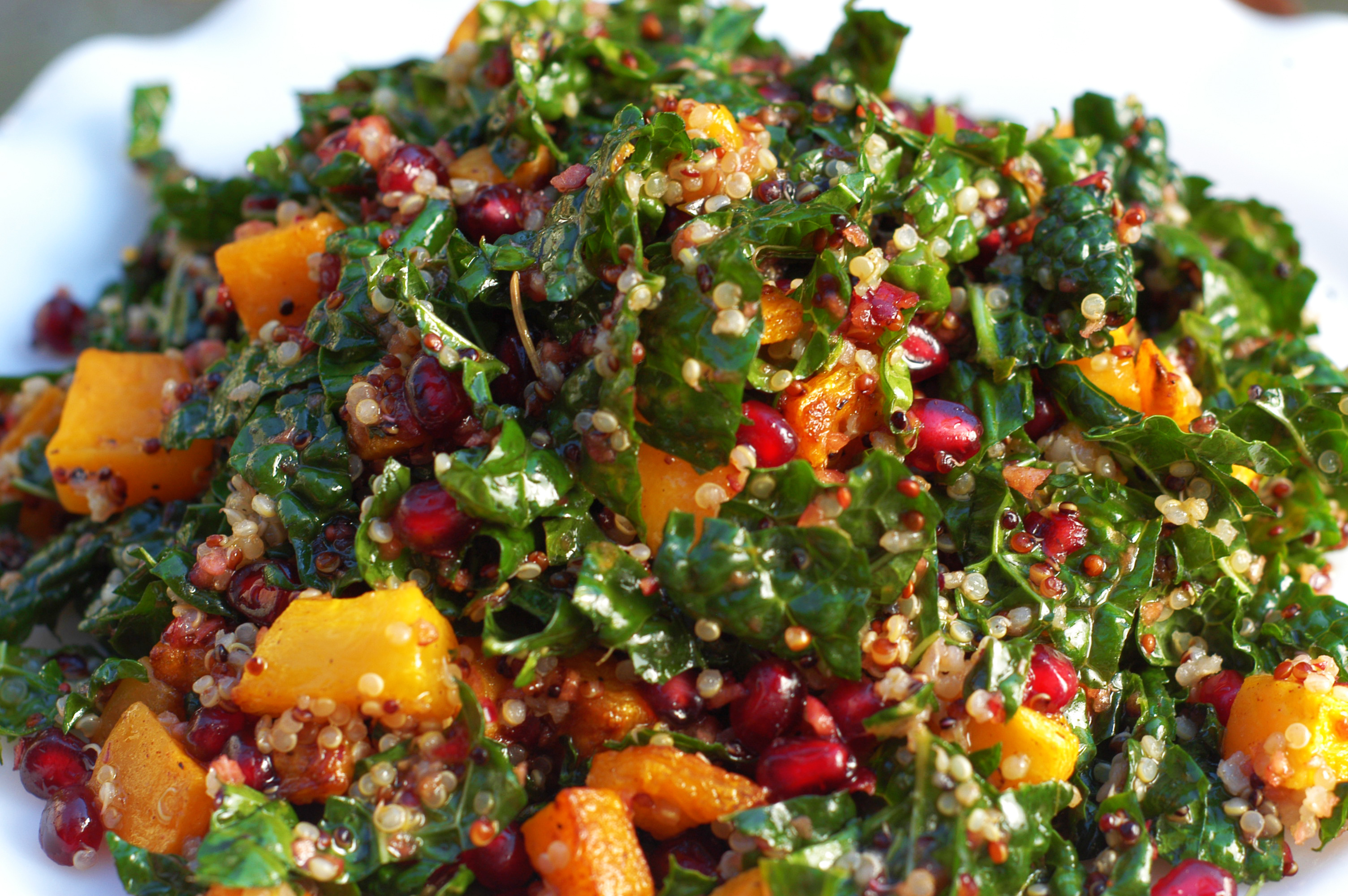 This salad is LOADED with nutrition! It is laden with rich micronutrients, antioxidants and immune boosting ingredients. This salad is also alkalinizing and cancer fighting. Yay! We like that.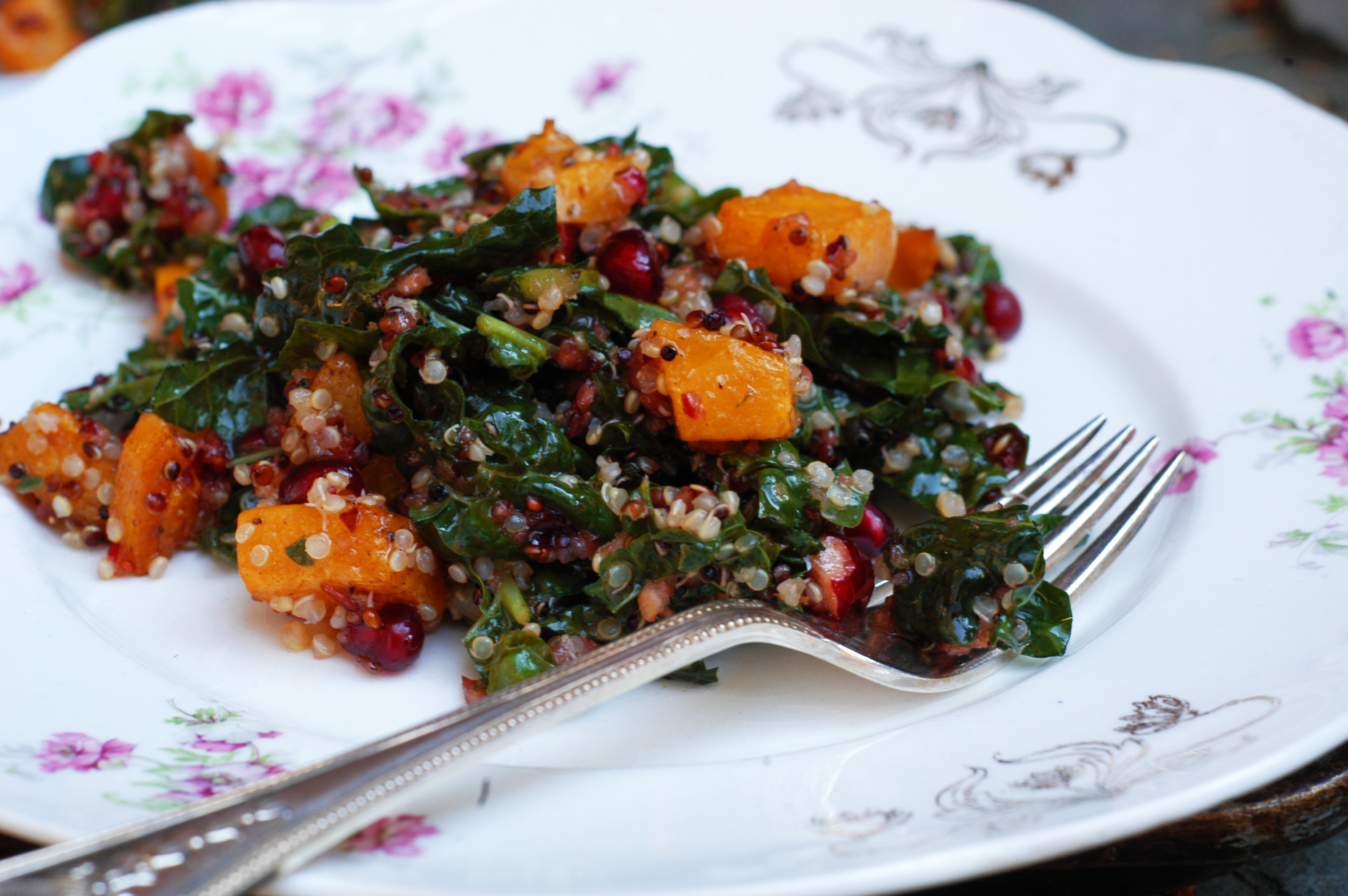 3/4 cup whole fresh cranberries
2 tbls orange zest
3 tbls coconut sugar
1tsp agave nectar
1 head of lacinato (dino) kale cut small (chiffonade)
2 cups of chopped butternut squash
1 pomegranate, seeds from
1 cup red quinoa cooked
olive oil
apple cider vinegar
salt and pepper
cinnamon
Note: This is a great salad to make the day after you made a big batch of quinoa for dinner and have left over.
Preheat oven 375. Cut squash into small squares. Toss with 3-4 tbls light olive oil, salt, pepper and 1 tsp cinnamon. Roast for about 25-30 minutes until golden brown. Let cool.
Rinse your quinoa very well and cook according to package in salted water, if you want you can soak your quinoa in water for a few hours, then rinse. Once your quinoa is cooked set aside. Let cool. Stir in 1 tbls good olive oil to the quinoa and salt to taste.
In a large salad bowl add the chopped kale and 3 tbls apple cider vinegar. With your hands work the vinegar in, massaging it for a few minutes.
In a food processor add 3/4 cup fresh cranberries 1 tbls orange zest and 3 tbls coconut sugar & 1 tsp agave nectar. Pulse until berries are completely chopped.
Add cranberry mixture, pomegranate seeds, squash, quinoa, about 5 tbls EV olive oil, salt and pepper and remaining tablespoon of orange zest to salad bowl and toss.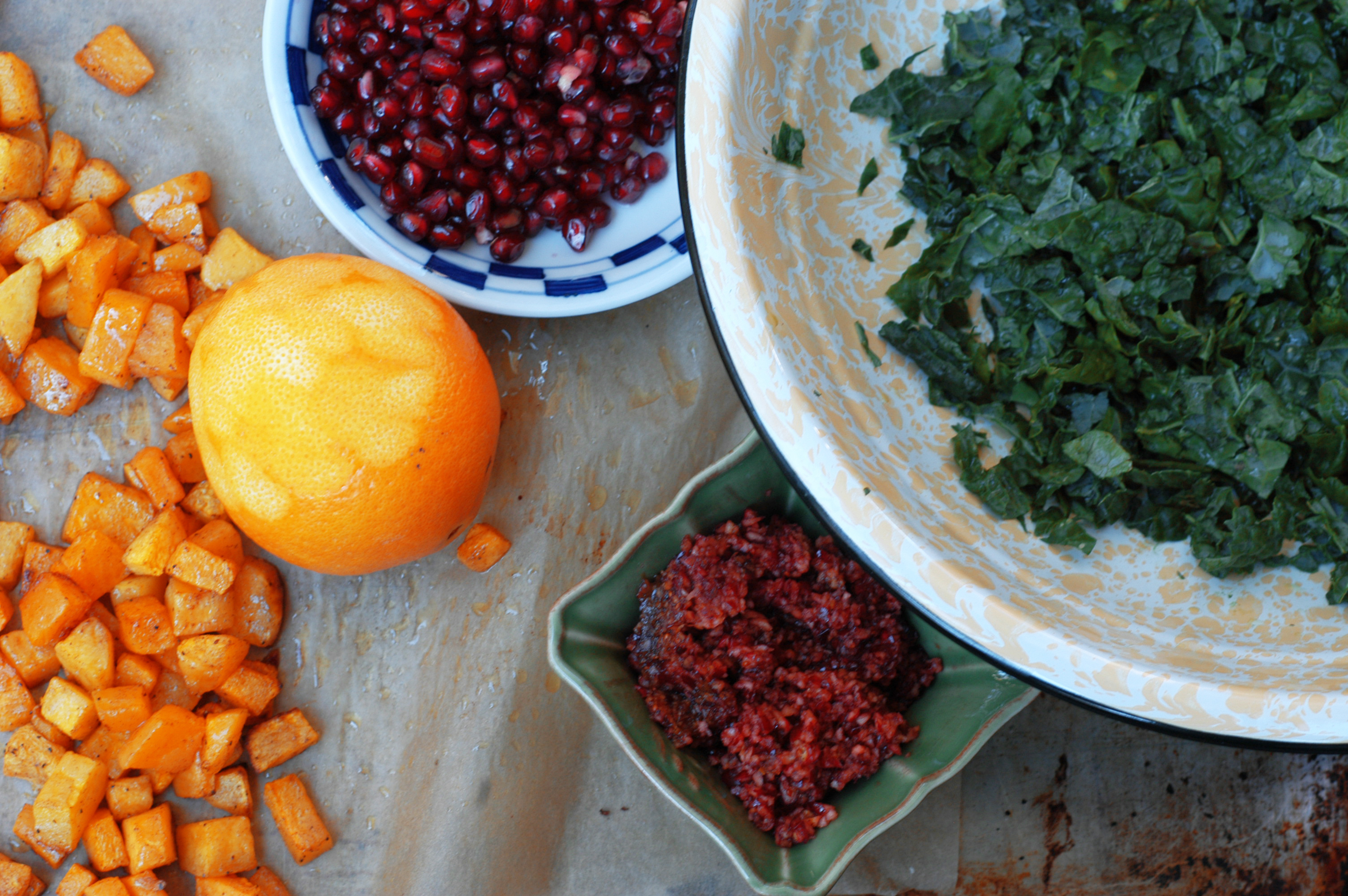 Kale has been taking center stage lately and for good reason. Kale is a cruciferous vegetable, cruciferous veggies are twice as powerful than other veggies. Here is what is so interesting about this leafy green. Something unique happens when these "crucifers", are chewed (or blended). When the cell walls are broken down a chemical reaction takes place that converts the sulfur they contain into something called ITC's(isothiocyantes). These ITC's have proven immune boosting and major anticancer effects. Kale is also high in calcium, vitamins C, K and A, high in iron and great for detoxifying the liver.
Pomegranites inhibit breast, prostate, colon cancer and leukemia and also lower blood pressure. Pomegranites have shown to protect significantly against breast cancer, as they prevent estrogen and testosterone levels from rising too high. They are high in Vitamins C and K and can lower cholesterol and protect the heart.
Butternut squash is also rich in healthy, immune boosting, cancer fighting alpha-carotenes, also rich in Vitamin A and C.
Quinoa is filling and so satisifying and feels like you are eating a grain, but actually you are eating a seed. Quinoa is packed with protein. It is referred to as the perfect "grain/protein" containing all 9 essential amino acids. High in fiber, (twice as much as other grains!!) lysine, magnesium, B2, and manganese.
Cranberries are rich in antioxidants and vitamins C and K.