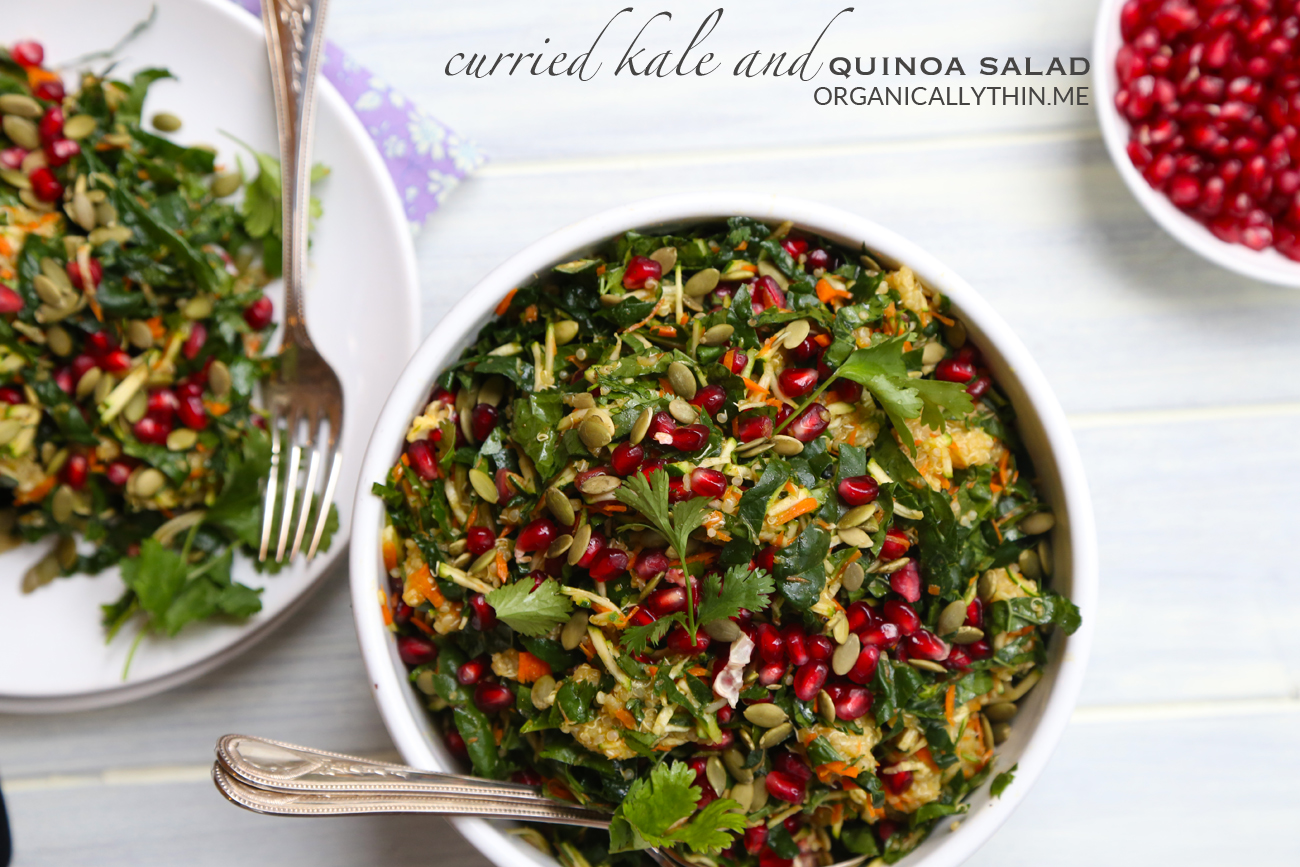 I am constantly thinking up ways to nourish my body with complete and total nutrition. In order to keep our bodies fit, lean, healthy and cancer fighting machines we need to eat at least 5 servings of green veggies a day. Making a huge salad packed with macro and micronutrients is an excellent way to stay fit, and keep our cells strong and healthy! Kale is very rich in Vitamin C and also has been proven to have antioxidant, antigenotoxic, anti-inflammatory and antimicrobial effects on the body. Kale (and other cruciferous veggies) have also been shown to stop the growth of cancer cells. Pomegranate, we know also is super great for us! It has ellagic acid which is a very strong antioxidant that may inhibit an enzyme that is connected to breast cancer development. Pumpkin seeds are loaded with heart healthy magnesium, zinc for immunity, and omega 3 to name a few.. also pumpkin seeds have been found to have benefits for diabetics and insulin regulation, they have also been shown to increase our good cholesterol (HDL) and lastly they are great for helping our bodies produce the sleep hormone melatonin.
Please do not let any of the details of this recipe bog you down or intimidate you . It is super simple. Just think of it like this. 1) boil water and cook quinoa according to package 2) toss whatever greens and shredded veggies you want 3) shake up some vinaigrette and BAM you are done. Here is what I did…
Serving size: 1 large cup
Salad Ingredients:
1 cup cooked quinoa, cooked and cooled tip: add a little drizzle of olive oil to this before it cools to prevent it from sticking all together
1 head of locinato kale cut into ribbons or chifonade
1 raw zucchini cut into a very small julienne on the mandolin
2 raw carrots cut into a very small julienne on the mandolin
1 pomegranate seeded
large handful of cilantro, chopped
1/4 red onion sliced very thin or shredded on mandolin optional
1/2 cup raw unsalted pumpkin seeds
Vinaigrette Ingredients:
1 clove of garlic minced
5 tablespoons olive oil
3 tablespoons apple cider vinegar
1/2 teaspoon maple syrup
1/2 teaspoon garam masala
1/2 teaspoon curry powder
1/2 teaspoon turmeric powder
1/4 teaspoon sea salt
dash of cayenne pepper
add all ingredients to a glass jar and shake!
Toss salad ingredients together in a large mixing bowl add vinaigrette, taste for salt and pepper.