The food we put into our bodies dictates how we feel. Food is life.

This recipe really just takes a few minutes.  This is a great last minute weekday meal that can be simply prepared and served a million different ways.  There is so much room to play here with this recipe. You can add cleaned, peeled raw shrimp to the tomatoes while they are cooking.  You can cook a gorgeous piece of dover or lemon sole in parchment paper in the oven to serve along side this dish.  You can also add 1 cup of cooked or organic canned beans (garbanzo, cannelloni, adzuki, mung) to this dish, and wow! Delicious. All so simple, hearty, and healthy.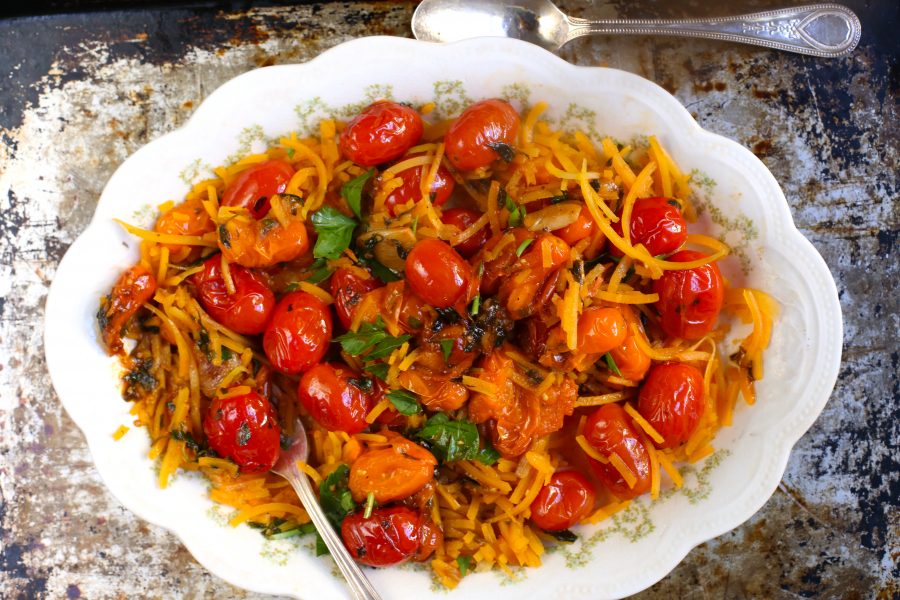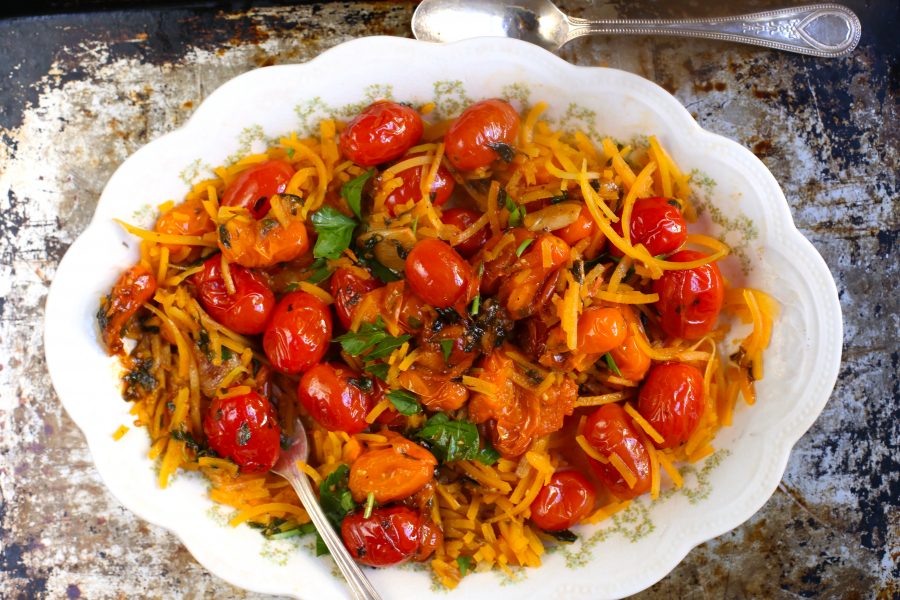 Spiraled vegetables are becoming increasingly popular, you can easily find root veggies,  zucchini or butternut squash already spiraled for you at the grocery store.  I know that Whole Foods has a variety. Otherwise you can surely do it yourself with your spiralizer.
Print

Blistered Tomatoes with Squash Noodles
---
Description
Blistered Tomatoes with Squash Noodles
---
4 cups or spiraled butternut squash
4 cups of grape tomatoes
1/4 cup olive oil
8 cloves of garlic sliced
1 cup of fresh flat leaf italian parsley, chopped
coarse seal salt
1/2 cup chicken or veggie stock
cracked black pepper
---
Instructions
Bring a large pot of salted water to a boil. Quickly blanche squash noodles for 5 seconds, and remove from water. Drain them well.
In a large saute pan warm the olive oil.  Add the garlic slices and let these brown a few minutes on medium heat, stirring occasionally.
Add the grape tomatoes whole, and turn up the heat to medium high. Let this sit for about 5 minutes, until they start to blister and pop a little. Stir.
Let them cook another 5 minutes.
Add your stock. Turn the heat to low and let this sit for about 10 minutes.
Add parsley.
Add the squash noodles to this sauce pan. Stir. Plate. Serve and enjoy!
---