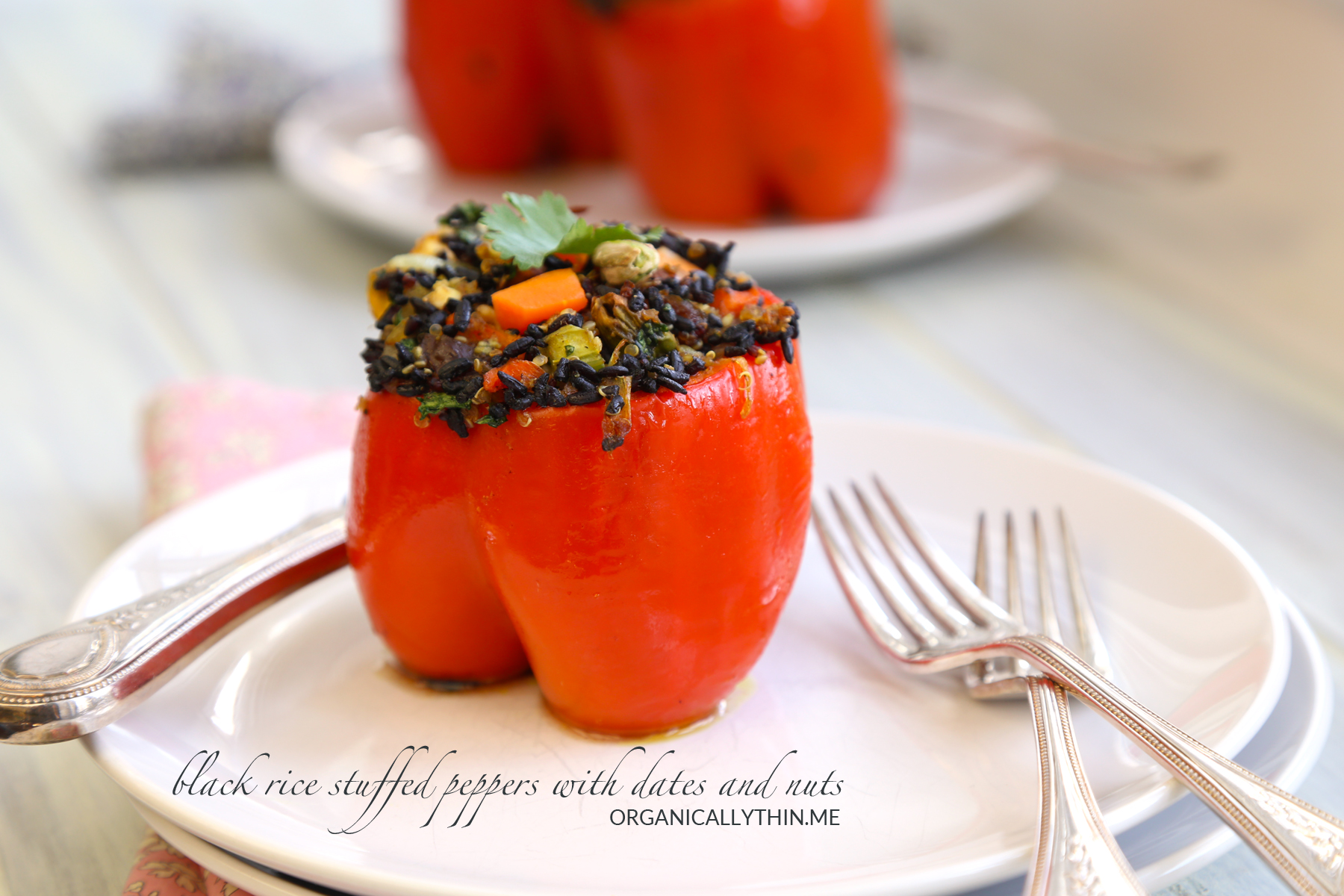 Black rice is the healthiest of all rices, and is packed with rich and powerful antioxidants called anthocyanins. Black rice contains more antioxidant power than blueberries. History tells us that it was grown in small amounts only for the Chinese Emperor and was known as"Forbidden Rice". Black rice is getting lots of attention and is now widely available. Studies have shown that anthocyanins are incredibly powerful in the protection of our cells from free radicals, they also protect our blood vessels and arteries from plaque buildup thereby preventing heart attacks. Black rice is rich magnesium, molybdenum, phosphorus, protein, fiber, zinc and vitamin E .
4 whole red peppers
1 1/2 cups cooked black rice
1 cup cooked quinoa
3 carrots, chopped
2 stalks celery, chopped
1 large onion, chopped
3 cloves of garlic crushed or finely minced
large handful of fresh cilantro, chopped
3 scallions chopped
olive oil
1/2 teaspoon dried turmeric
1/2 teaspoon garam masala (if you like these flavors otherwise you can use whatever flavor profile you like)
4 dates chopped (can also use raisins, dried cherries, dried cranberries, dried apricots¦)
1/2 cup pistachios
1/2 cup veggie or chicken stock
1/2 cup feta cheese
salt and pepper
Preheat oven to 350°. After your rice and quinoa have cooked, transfer both to a large mixing boil. Sauté your carrots, onions and celery in a few tablespoons of olive oil on medium heat, add salt and pepper. Let this cook for about 10 minutes on medium/low. When done add this mixture to your rice/quinoa. Add your chopped scallions, cilantro, dates, pistachios, stock, spices, feta, garlic, 4 tablespoons of olive oil, salt and pepper.
Now prepare the peppers for stuffing. Cut the tops off of the peppers and pull out the inner ribs. You can also slice off a tiny sliver of the bottom of each pepper so that they stand up straight in the baking dish. Add a few tablespoons of olive oil to the bottom of a small baking dish (or glass pie plate works well). Rub olive oil on the outside of your peppers, sprinkle with salt. Stuff your peppers and pop them into the oven for about 35 minutes. Check them often for doneness.