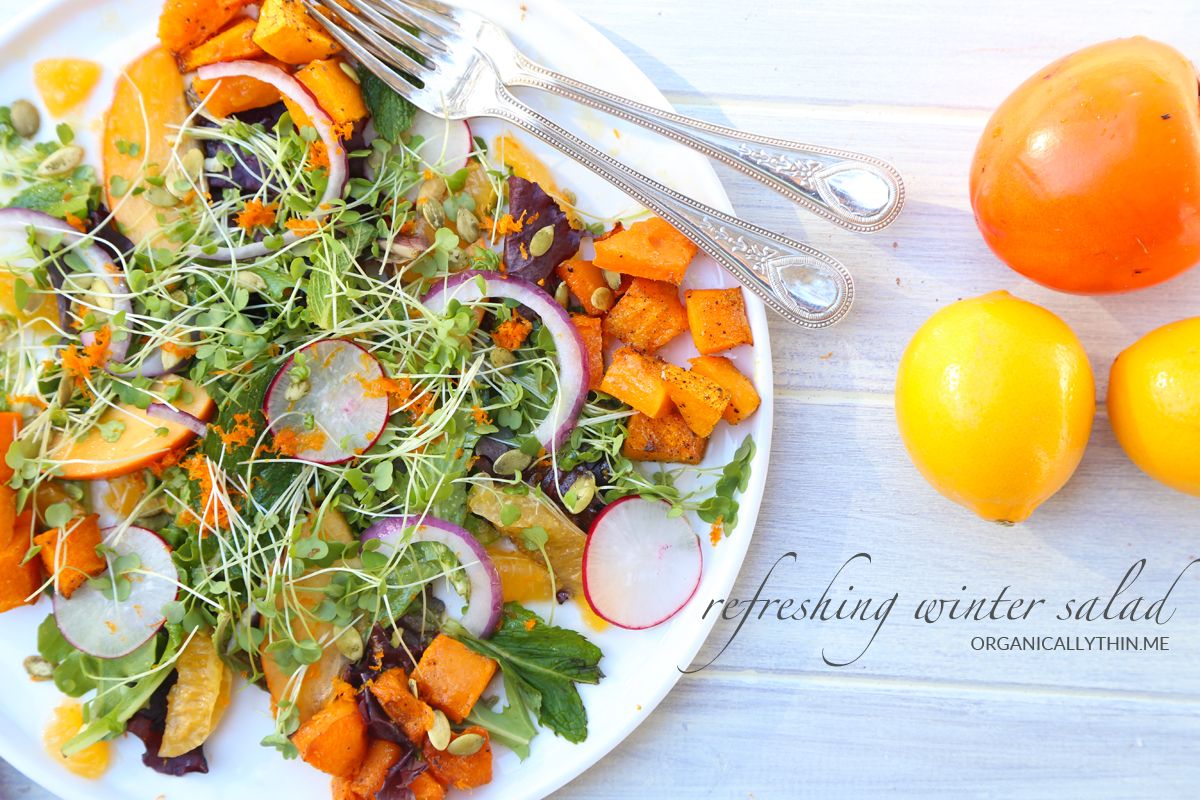 Bright, refreshing citrusy winter salad. This is truly an enjoyable salad to eat, there is nothing boring or mundane about it. This salad is super easy to compose, it took just a few minutes to put together, easy enough to do while the butternut squash is roasting in the oven.
First, roast your squash:
1 butternut squash, cubed…drizzled with a few tablespoons of olive oil, salt and pepper… roast at 375° for about 25 minutes. You will need about 1 1/2 cups cooked squash for the salad.
Ingredients for the rest of the salad:
1 5 ounce box of mixed greens of your choosing, i used a mesclun mix
1 small box of micro-greens, i like arugula micro-greens
1 persimmon sliced thin
1 radish sliced thin
1 tangelo orange First zest the orange. The zest will go on top of your salad at the very end. Then, cut away the skin of the orange with a knife which will allow you to supreme the segments, leaving behind the tough white membrane. Squeeze all the juice from the remainder of the orange into a little bowl for your dressing
1/4 red onion sliced very thin
fresh mint leaves (about 10-1520 leaves or so)
4 tablespoons pumpkin seeds
Vinaigarette:
juice from the orange (about 4 tablespoons or more)
4 tablespoons of olive oil
salt & pepper
1/4 tsp garlic powder or fresh minced garlic if your prefer
Whisk the olive oil into the juice from the orange add salt and pepper and garlic powder. I like to assemble this salad on a large flat platter. I layer it starting with the greens and lay everything else on top.. then i spoon the dressing on top, add the zest from the orange, then add the roasted squash last.
Serves 4 people