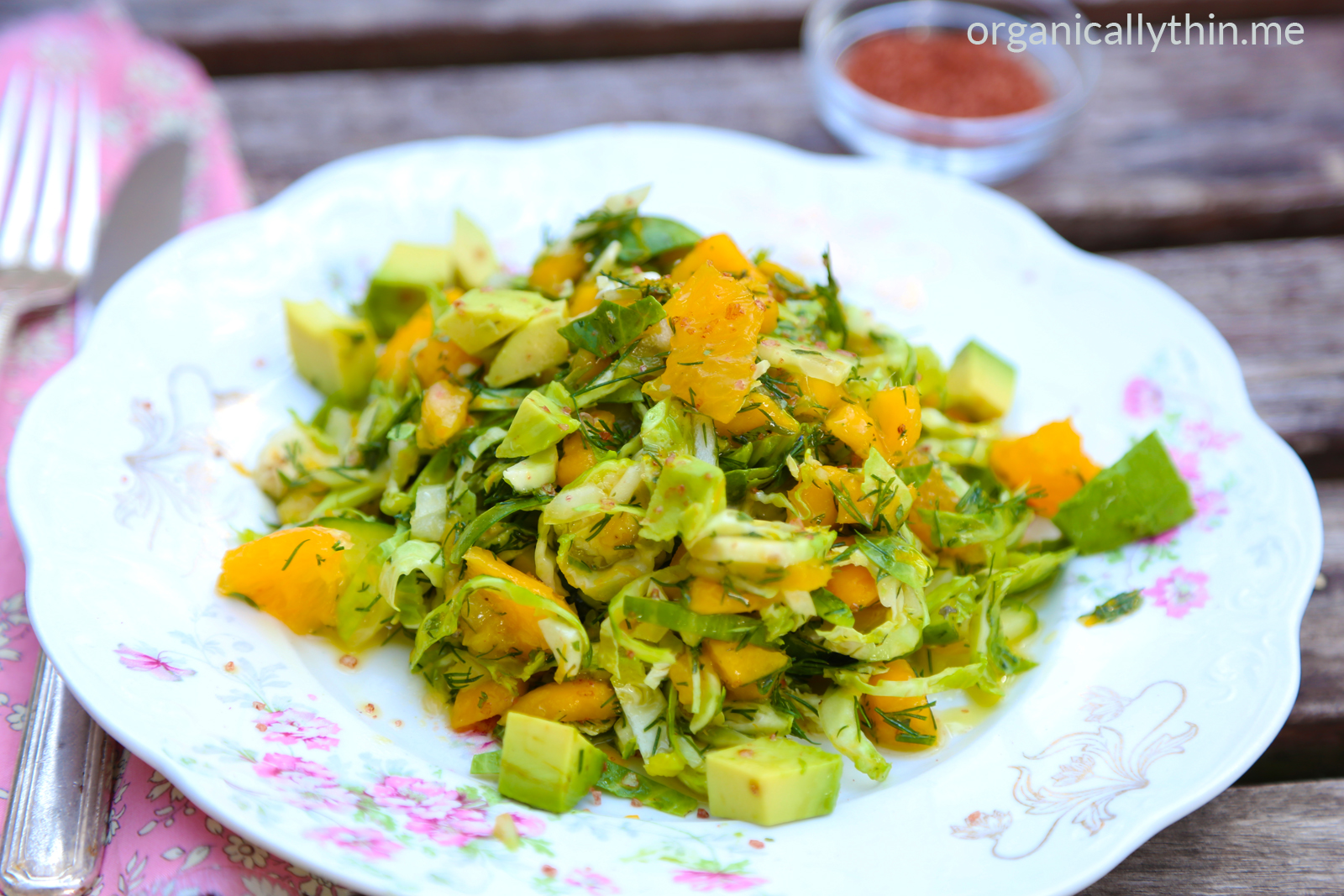 Brassicas!! Oh how I LOVE you! The brussel sprout is a member of the brassica or cabbage family. I love this teeny tiny mini personal head of cabbage, they are just so very cute. Aside from being an amazingly delicious raw salad green, they are incredibly detoxifying and super healthy. Brussel sprouts in particular have 4 unique cancer fighting compounds that help protect our DNA and help our cells stay strong and cancer free. The "Journal Of Food & Science" states that they contain glucosinolates and isothiocyanates which have shown to reduce cancer risk. These sprouts are actually stronger fighters than kale, broccoli, cauliflower and mustard greens! Wow! These little guys are also super high in protein, vitamin K &C, and folate.
The Salad:
15 brussel sprouts, washed and finely sliced into shreds
1/2 sweet onion, finely chopped
small handful of fresh dill chopped
1 peach, peeled and chopped into cubes
1 mango, peeled and chopped into cubes
1 orange segmented
1/2 english cucumber sliced small
1 small avocado, diced
Dressing:
juice and zest from 1 orange
2 large teaspoons of dried or fresh tarragon
2 tablespoons of apple cider vinegar
5 tablespoons of extra virgin olive oil
1 teaspoon honey
salt & pepper to taste
Slice your brussel sprouts nice and thin. Add all salad ingredients to large mixing bowl. Whisk dressing ingredients together. Toss dressing with salad and let it sit for a bit to allow the acids to breakdown the brussel sprouts a bit.