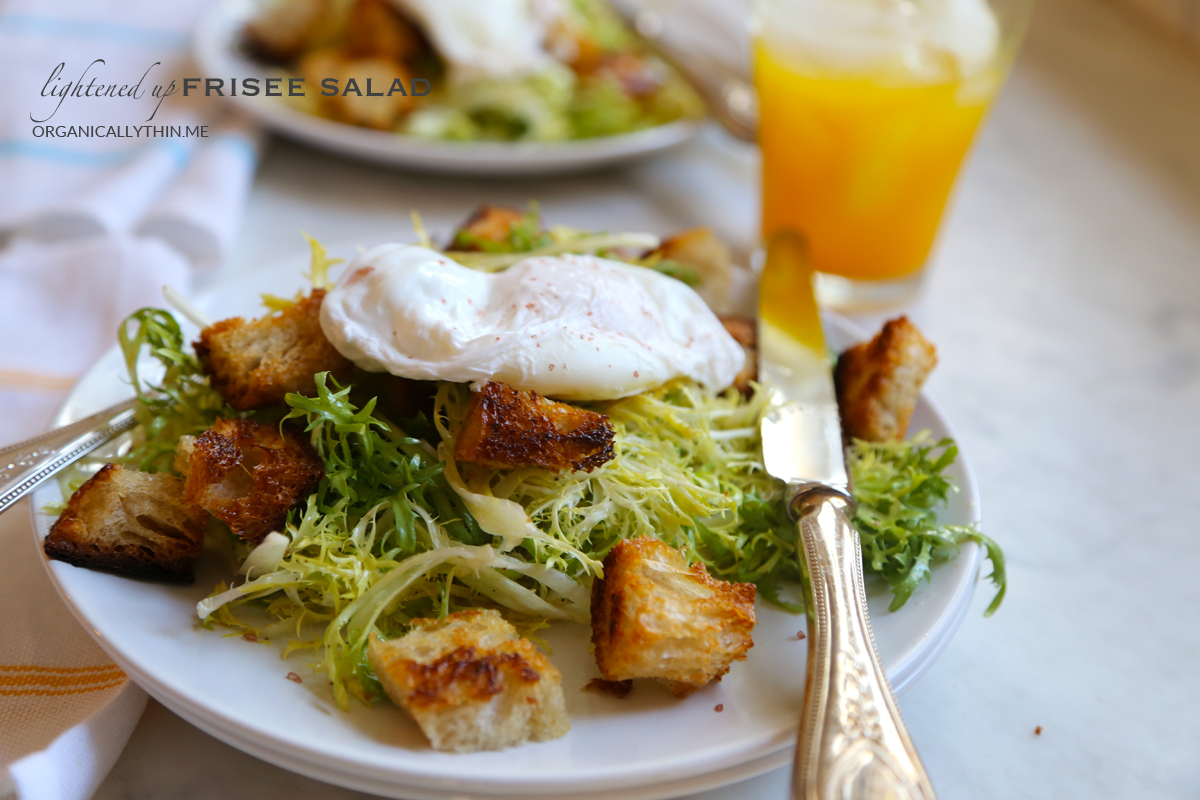 I love me a frisee salad, oh yes I do. Of course I love it with salty crispy lardons, but you know what? I made it today without the meat and I did not miss it one bit! I made this for my husband and myself for lunch today.. it took all of maybe 20 minutes start to finish. This is a great ladies luncheon idea, easy to prepare everything ahead of time, with the exception of the poached eggs…and the presentation is divine.
Ingredients:
frisee, washed and dried
rustic bread for making croutons (i used sourdough)
2 eggs
olive oil
salt and pepper
Wash and spin frissee. Put a small pot of water up to boil for the eggs, add a pinch of salt and 1 tablespoon of vinegar (the vinegar helps the eggs stay together when poaching). Cut the bread into chunks. Toss bread in a large bowl with a few tablespoons of olive oil and salt and bake in 400 oven on a sheet pan for about 5 minutes, then lower oven to 250 checking it until croutons are golden brown, about 15 minutes or so. Dress the salad with the vinaigrette, add the croutons. When the water is boiling, crack 2 eggs into it and leave them alone. After about 3-4 minutes remove eggs from the water with a slotted spoon making sure to tap off any excess water..then place the poached eggs on top of the salad.
vinaigrette:
3 tablespoons olive oil
1 1/2 tablespoon of apple cider vinegar
1 teaspoon dijon mustard
1 clove of garlic minced
1/2 teaspoon agave nectar
pinch salt and pepper
combine all ingredients in a glass jar and shake! that's it for the vinaigrette!
Servings: 2