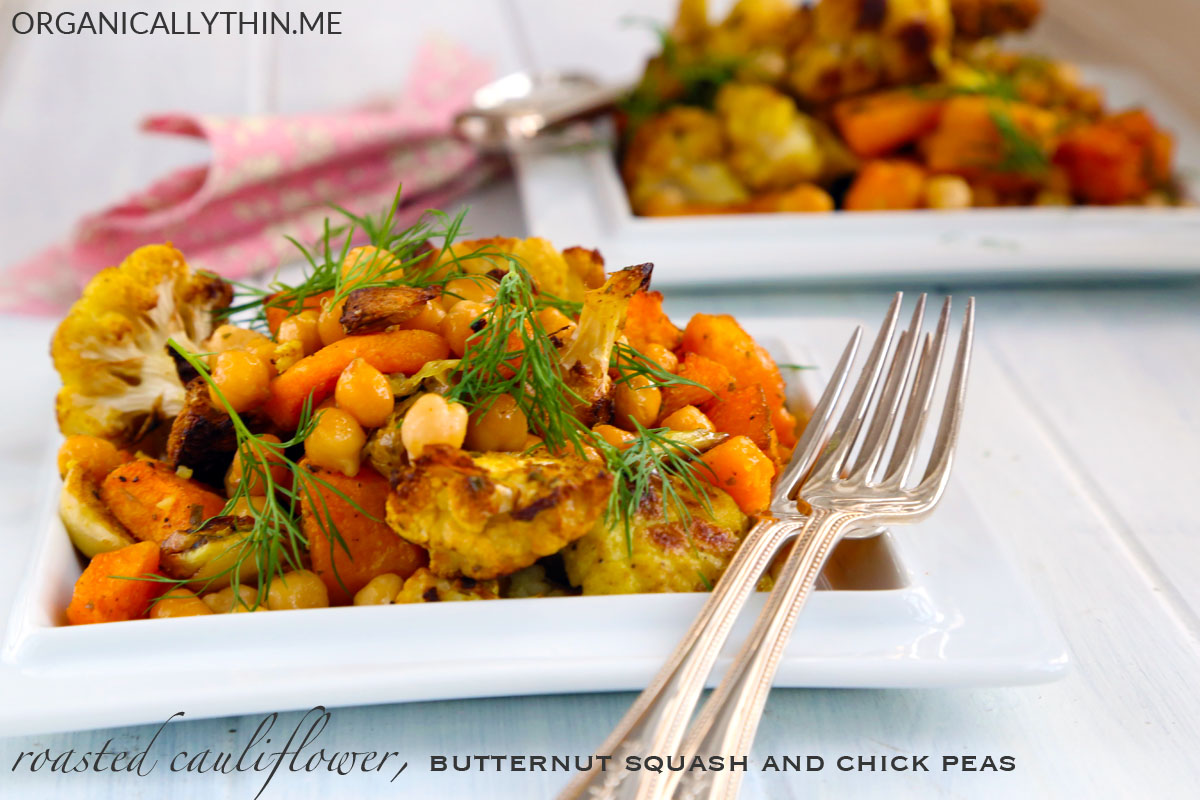 Winter is sticking around and my body is craving foods that will stick with me and nourish me. Roasting veggies is a no brainer and a great way to get tons of veggies into your diet! You can make this recipe with any combination of veggies, all you need is a drizzle of good olive oil, salt & pepper. You can add these to cooked pasta, serve as a side dish to a protein or even purée and add stock to make a soup!
Adding the chick peas really makes this a complete meal, you are getting abundant protein and folic acid, and all of the wonderful anti-cancer benefits of the cruciferous cauliflower. Butternut squash is a great source of beta-carotene (also an anti-carcinogenic) and great for digestive problems, loaded with Vitamin A and C, potassium and magnesium.
Ingredients:
2 cups butternut squash
1 head of cauliflower cut into florets
1 cup canned or cooked chick peas, (rinsed and tossed with olive oil, salt pepper and a dash of curry powder)
6 cloves of garlic whole but smashed
6 tablespoons extra virgin olive oil
¼ teaspoon of cumin
½ teaspoon of curry powder
¼ teaspoon garlic powder
½ teaspoon coarse salt
½ teaspoon black pepper
The Process:
Preheat oven to 400° Toss everything together in a large oil. Make sure that the mixture is well coated with olive oil. Transfer to parchment lined baking sheet. Roast in oven for 20 minutes. Remove sheet pan, and add the chick peas. Return to oven and roast for another 15-20 minutes, checking often.