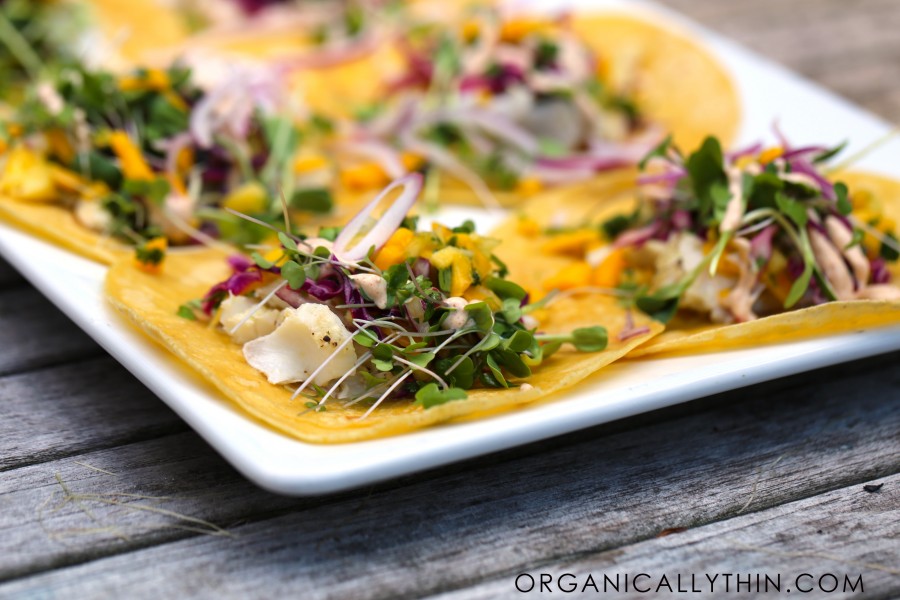 I woke up yesterday morning (Saturday), wanting to make something different. I wanted to try my hand at making my own organic, non-GMO, corn tortillas… so I set out to source the ingredients and to purchase a tortilla press. My first stop was Bed Bath and Beyond to buy the press, but they had no such item, and so I left the store figuring that I would just order it online and I would purchase organic pre-made tortillas at the market. Done.
I found myself at my local Whole Foods market and spent the better part of an hour ruminating over different types of microgreens, and tropical fruit that I would dice small into a spicy fruit salsa. I collected several different kinds of small citrus, limes, and a small lemon that was different in shape and pink inside, could this be yuzu fruit? The taste was much more subtle than yuzu and was more reminiscent of lemon/grapefruit. There was no signage, so I am not sure what this was, but it was lovely.
While in my favorite section, the produce department, I heard the most eloquent and familiar voice, ask the attendant about "lettuce". Why do I know this voice? Who is this man? Yes, yes I thought to myself, I know you! It was the amazing British Actor Michael Caine! Wow, I wanted to say hello shake his hand, and when I looked into his eyes, I just wanted to give him a hug. I didn't dare, but we both shopped, at length I might add. I am happy to report that he looks as fit as could be, handsome and dashing, must be all the healthy food shopping he does!
So onto my Michael Caine inspired dinner. This meal was easy, super simple and quick. I invited friends for dinner and we ate casually at the kitchen table enjoying crisp cold cocktails of organic peach nectar, champagne, vodka and elderberry liquor.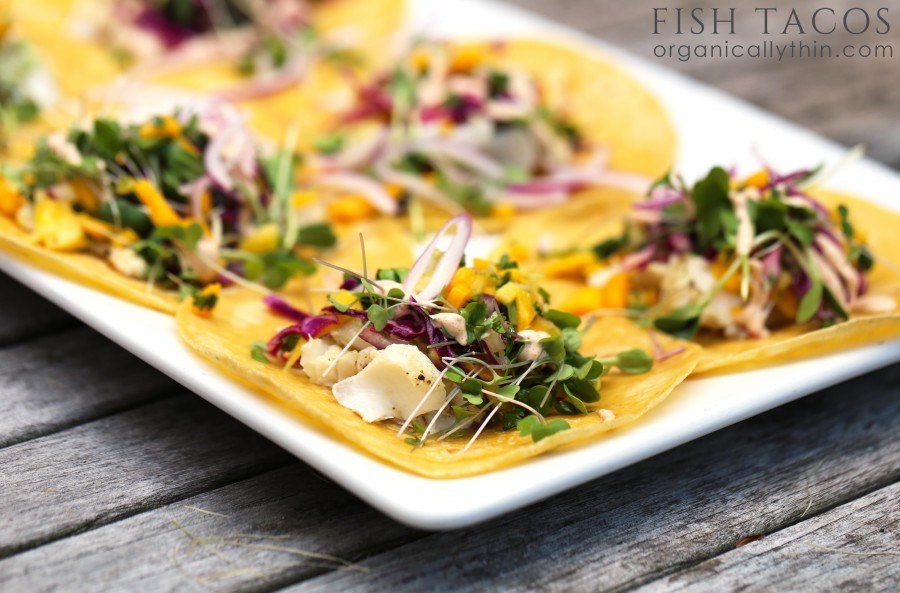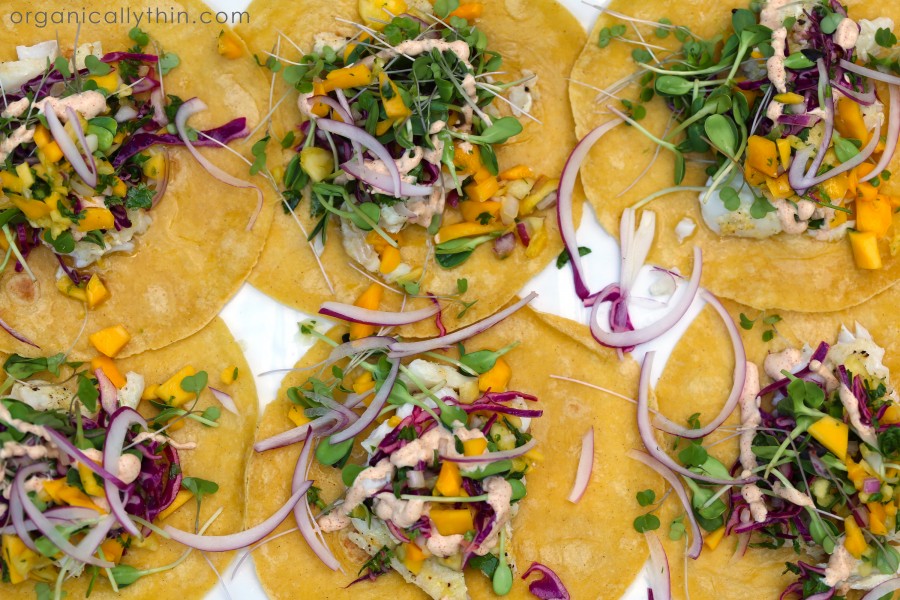 8 Organic non-gmo corn tortillas
(wrap in foil and warm in a hot oven for about 5-10 minutes)
For the Fish:
1 lb atlantic cod
2 – 3 tablespoons of olive oil
1 tablespoon of organic grass fed butter
1/2 teaspoon granulated garlic
pinch of sea salt and black pepper
juice from 1/2 lime or yuzu and the zest
The Accoutrement:
1 small box of kale (or any) microgreen/sprouts (about 1 cup)
1 small box of sunflower sprouts (about 1 cup)
Cabbage Slaw:
1 cup purple cabbage sliced thin
1/2 cup of cilantro, chopped fine
1 jalapeño, diced fine
1/2 red onion sliced into very thin shreds
3 tablespoons of olive oil
1 lime, juiced and zested
1 tablespoon maple syrup
pinch of sea salt
black pepper
1/4 tsp granulated garlic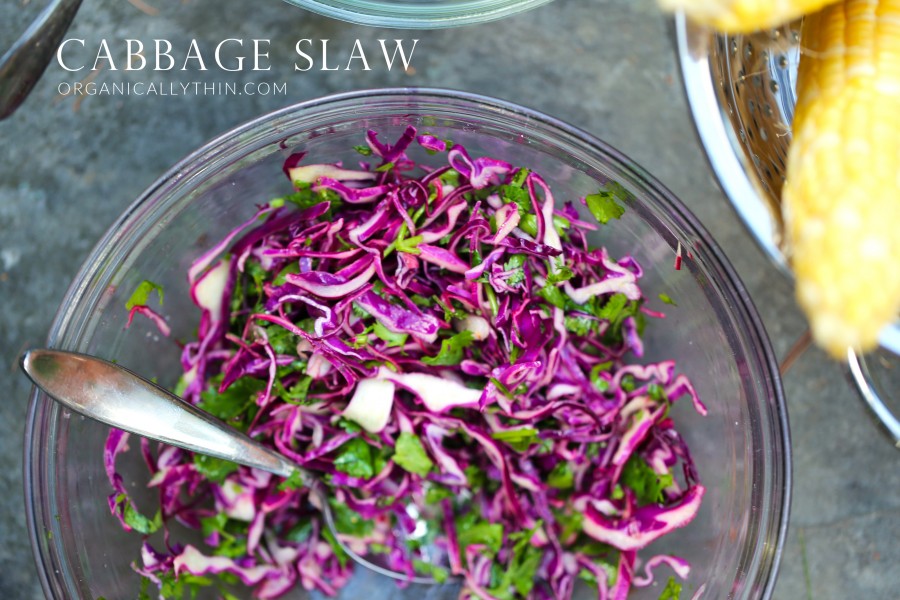 Compound Mayo:
1/2 cup mayo
1/2 avocado
juice from 1/2 lime and the zest
1/4 tsp cayenne pepper
1/2 tsp ancho chili powder
Fruit Salsa:
1 cup diced pinapple
1 cup diced mango
1/2 cup chopped cilantro
1 shallot chopped fine
1/4 cup diced red onion
juice from 1 lime and the zest
pinch of sea salt
black pepper
1/4 tsp granulated garlic
Preheat your oven to about 400°. It was hot, so we cooked the fish on a baking sheet lined with foil and covered with foil on our BBQ. This worked very well. Wash your fish and check for bones. Pat dry. Lay fish down on lined baking sheet. Drizzle with about 3 tablespoons of olive oil, spread it around with your hands. Cut up about 1-2 tablespoons of grass fed butter and spread that around. Season fish with fresh garlic (minced) salt and pepper, Squeeze citrus juice and zest. Bake in the oven for about 15 minutes depending on thickness. Check often for doneness. I like to start my washing all of my sprouts and cilantro. Dry them well.
THE SLAW: In a small bowl add 1 cup of shredded cabbage with 1/2 cup chopped cilantro, shallot, jalapeño and red onion. Season with salt and pepper, maple syrup garlic. Toss and let sit until you are ready to assemble. Chill in fridge
FRUIT SALSA: Add all the ingredients to a bowl and toss, chill in fridge.
MAYO: Add all of the ingredients to a blender or food processor and process until smooth. I like to then transfer to a squeeze bottle so that it's pretty when I add to my tacos.
Once the fish is cooked, let it cool down for just about 5 minutes. Warm your store bought organic tortillas wrapped in foil for about 5 minutes on the BBQ. Start assembling.
Taco. Fish. Fruit salsa. Cabbage slaw. Kale sprouts. Sunflower Sprouts. (Raw fresh organic corn if you like.) Generous squeeze of compound mayo, maybe a little lime zest and a squeeze and you are off! Cheers and hats off to you MICHAEL CAINE!