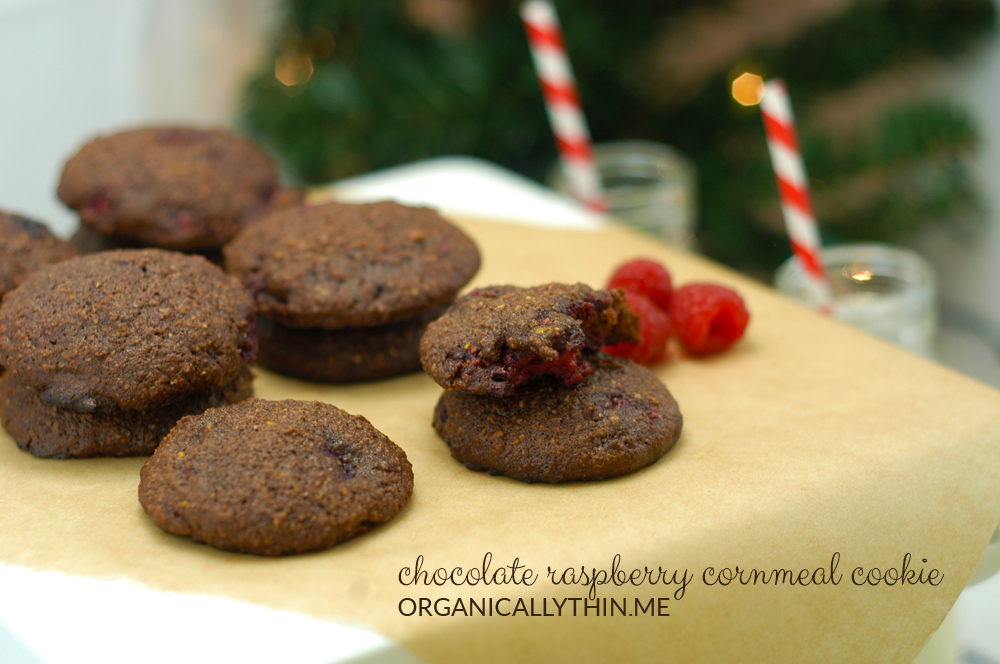 These cookies were inspired by my very talented friend Marla from Family Fresh Cooking.
I wanted to play around with adding cornmeal to this cookie, I like that nutty gritty feel that cornmeal adds. I also love the combination of raspberry and chocolate. I used a medium grind organic cornmeal, of course you can use a finer grind for a more delicate cookie. I made half of the batch with frozen raspberries and half with none. They were both very good. They are very subtle in flavor and sweetness, but quite nice. They were a hit with my two little ones, who said they were perfect for dipping in milk! These cookies are gluten-free.
Ingredients: All of these items can be purchased from your Organic Grocer
1 1/2 cups Blanched Almond Flour
1/4 cup Cornmeal
1/4 cup Unsweetened Cocoa Powder
1/4 tsp Baking Soda
1/4 tsp Baking Powder
1/4 tsp Salt
1/2 cup Pecans, roasted and chopped
1/2 cup Maple Syrup or Agave
2 Large Eggs
4 tbs Butter, melted
1 tsp Vanilla extract
1 tsp Almond extract
1 cup Frozen Raspberries
Preheat oven to 325. Combine all dry ingredients in a bowl and whisk to combine. In the bowl of your electric mixer combine eggs, maple syrup, melted butter and extracts. Once combined, add dry ingredients to the mixer until just combined. Stir in frozen raspberries by hand. Bake for about 20-24 minutes.
These cookies are about 150 calories each.