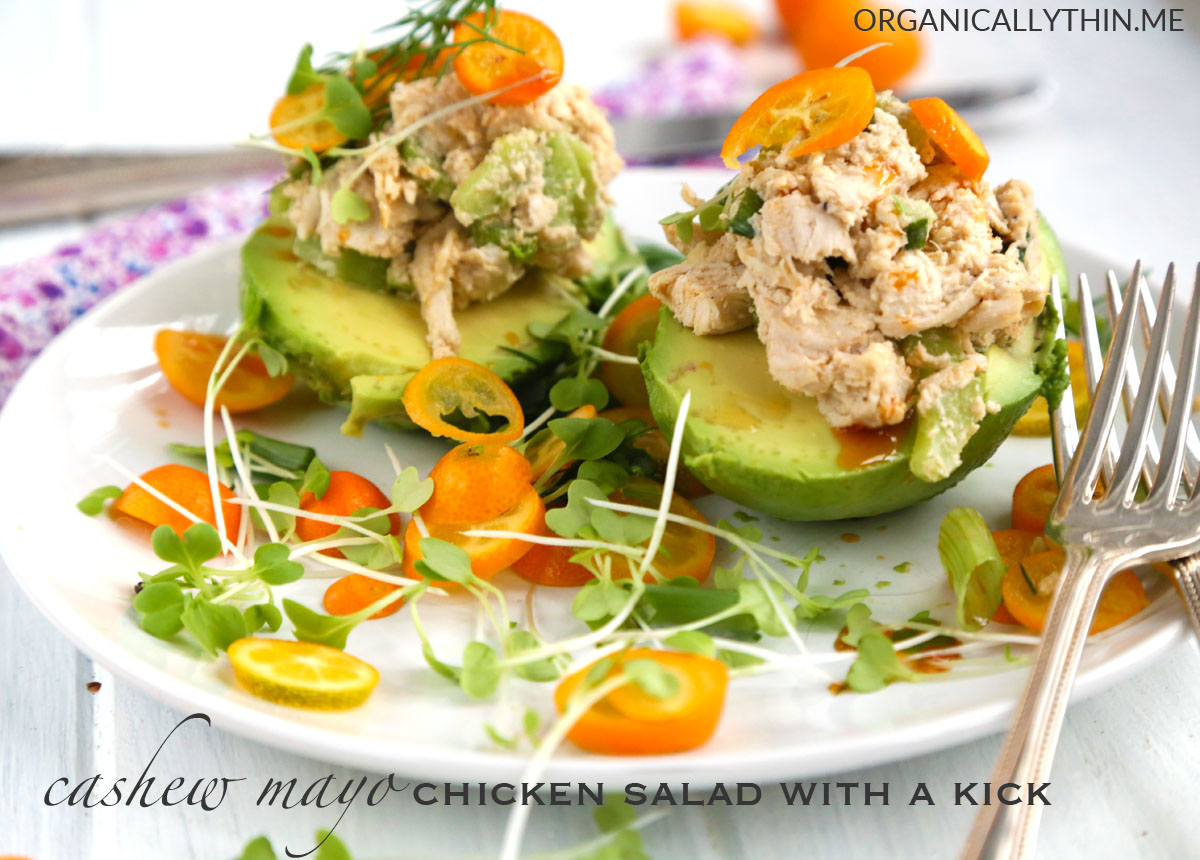 This recipe is a CROWD PLEASER! It is super simple and easy to make and SO satisfying and delicious, I promise you will love it! You do need a high-speed blender like a Vitamix to make the cashew mayo. Other than that, easy peasy!
Ingredients for the mayo:
1 1/2 cups of cashews (soaked for a few hours and rinsed)
1 1/2 tablespoons of rice wine vinegar
2 teaspoons dijon mustard
1 teaspoon hot sesame oil
generous pinch of coarse salt
pinch of black pepper
water to thin to mayo-like consistency, start with 4 tablespoons add more as needed
Add all ingredients to high speed blender for about 1 minute or less.
chicken salad:
2 boneless skinless chicken breasts (add chicken breasts to a small pot and cover with water by about 1 inch. Add pinch of salt and peppercorns and a tablespoon of olive oil. Bring to a boil and lower to medium. Let cook about 25 minutes, checking that they are no longer pink in the center and are done.)
4 scallions, chopped
3 ribs of celery finely chopped into small slices
1 teaspoon rice wine vinegar
1 teaspoon roasted sesame oil
1 teaspoon hot sesame oil
1 tablespoon of finely minced sweet onion (optional)
1 tablespoon zested lemon peel
salt and pepper
cashew mayo (above)
Once chicken is cooked, remove it from poaching liquid and cut it up a bit to allow heat and steam to escape for faster cooling. Let the chicken rest this way for about 20 minutes or until it reached room temp.
Once cooled to room temperature, chop the chicken up into small chunks, or shred it if you prefer. Add chashew mayo, scallions, celery, grated onion, sesame oils, rice wine vinegar, lemon zest, salt & pepper. Mix to combine. You can eat right away, but I have found that this chicken salad is even better the next day! So make it ahead.
Serving suggestions:
Scoop with an ice-cream scooper into a halved avocado, top with sliced kumquats and micro greens, scallions and another drizzle of hot sesame oil. Over the top delicious and nutritious!