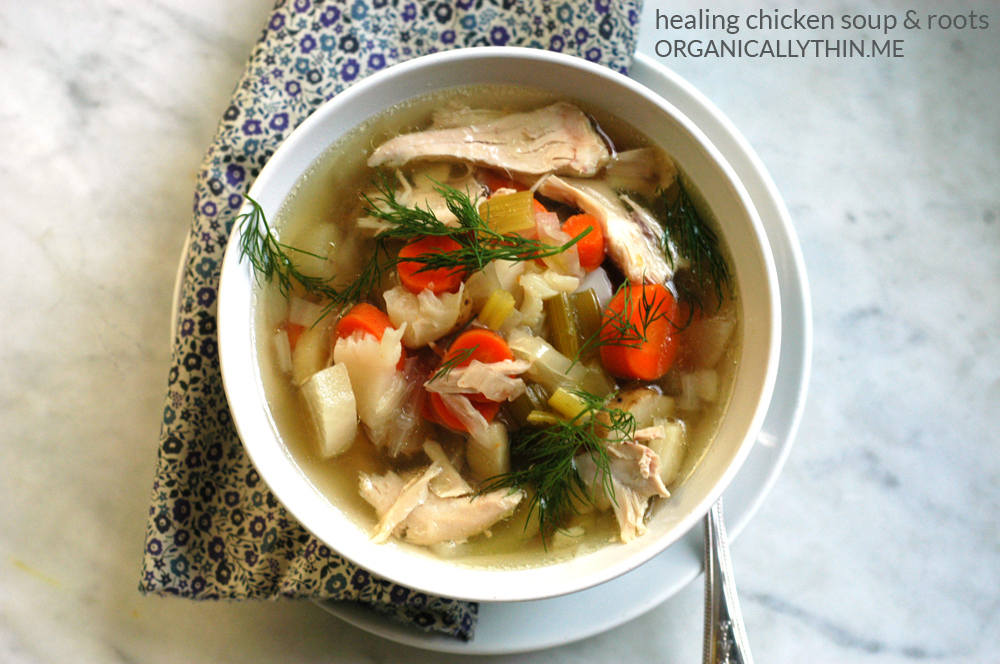 It's cold in New York, we had a little snow yesterday. There is nothing quite as soothing as a bowl of homemade soup on a cold winters night. Especially if you sense a sniffle, or a little cold coming on, you can chase away that impending cold with a nice chicken soup. Medical research has actually found evidence that chicken soup does have a strong anti-inflammatory response on the body. I added Jerusalem artichokes to this soup. A 1-cup of Jerusalem artichokes contain thiamin, iacin, vitamin C, riboflavin, vitamin B-12 and folate.
Ingredietns:
4 carrots, sliced
4-6 celery stalks, chopped
1 large onion, chopped
5-6 cloves of garlic, smashed
3 parsnips, chopped
1 cup daikon, chopped
3 Jerusalem artichokes (or sunchokes), chopped
ginger root, peeled and left whole, a nice big 3″ piece
1 whole chicken
5 locinato kale leaves, stemmed and chopped small
small handfull chopped fresh dill
small handful of italian flat leaf parsley chopped
Water to cover chicken in pot or organic chicken broth, or you can use a combo of both
salt & pepper to taste
Combine carrots, celery, onion, garlic, parsnips, daikon, sunchokes, ginger, chicken, water or broth to cover. Bring to a boil then cover and lower the temperature to a simmer. Let it cook on low flame covered for about 1 1/2 hours. Turn the heat off. Remove chicken when temperature has cooled slightly. Pick through the chicken by hand, making sure not to add any little bones or cartridge back to the pot. Once you have added the chicken back, add the chopped kale, parsley and dill. Season with salt & pepper.