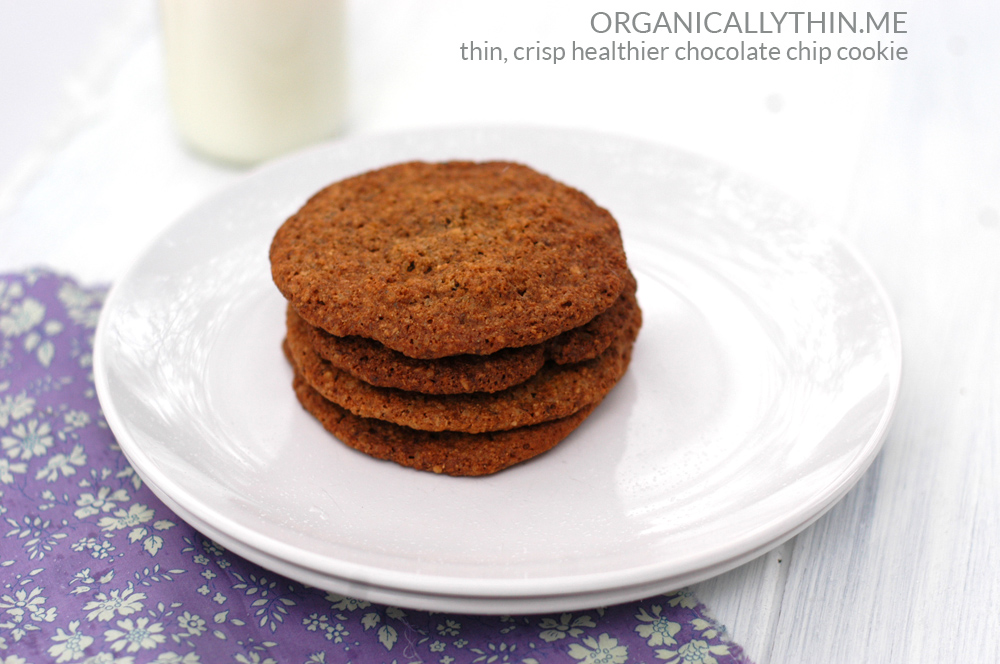 I set out this morning with the hope to create a chocolate chip cookie that was super healthy and also would win the approval of my children.  So… this cookie lies somewhere in between healthy and just a little naughty.
Once these cookies cool, they are so incredibly crispy and crumbly they just about melt in your mouth.  The texture is a little nuttier and grainier than your traditional toll house recipe.  I must say though, I quite like the texture and the grain from the flax meal, and the ground oats.  A handful of finely chopped pecans or walnuts might make these cookies even more divine.  These cookies are on the  larger side, I used a 2″ ice cream scoop.
Ingredients:
Makes 32 cookies
1 cup whole wheat pastry flour
1/2 cup almond flour
1 cup ground oats
1/4 cup flaxseed, finely ground in a spice grinder, or pre-ground flaxseed
1 teaspoon baking soda
1/2 teaspoon salt
1/4 teaspoon ground cinnamon
12 tablespoons (1 1/2 sticks) unsalted butter, softened
3/4 cup turbinado sugar
3/4 cup packed dark brown sugar
2 large eggs
2 teaspoon vanilla extract
1 cup semisweet chocolate chips
2 tablespoons water
Preheat oven to 350. Line baking sheets with parchment paper. Whisk together dry ingredients in a bowl.
In the bowl of an electric mixer blend together the softened butter and sugars. Let this mix for several minutes until well combined and a little fluffy. Add the eggs, one at a time. Add the vanilla, water. Then gently add in the chocolate chips. Bake for about 10-12 minutes. Let cool a few minutes on sheet pan before transferring to a wire cooling rack.
Nutritional info: Calories 146, Fat 7 grams, Protein 2 grams, Carbs 17 grams, Sugar 14 grams, Fiber 2 grams