These are super easy to make, and are a great idea on a night that you have leftover veggies, quinoa or rice in the fridge. I made these for lunch, I wanted something yummy and healthful at the same time. These are super friendly for the waistline. Nutrition: These will run you about 225 calories, if you get a 100 calorie wrap.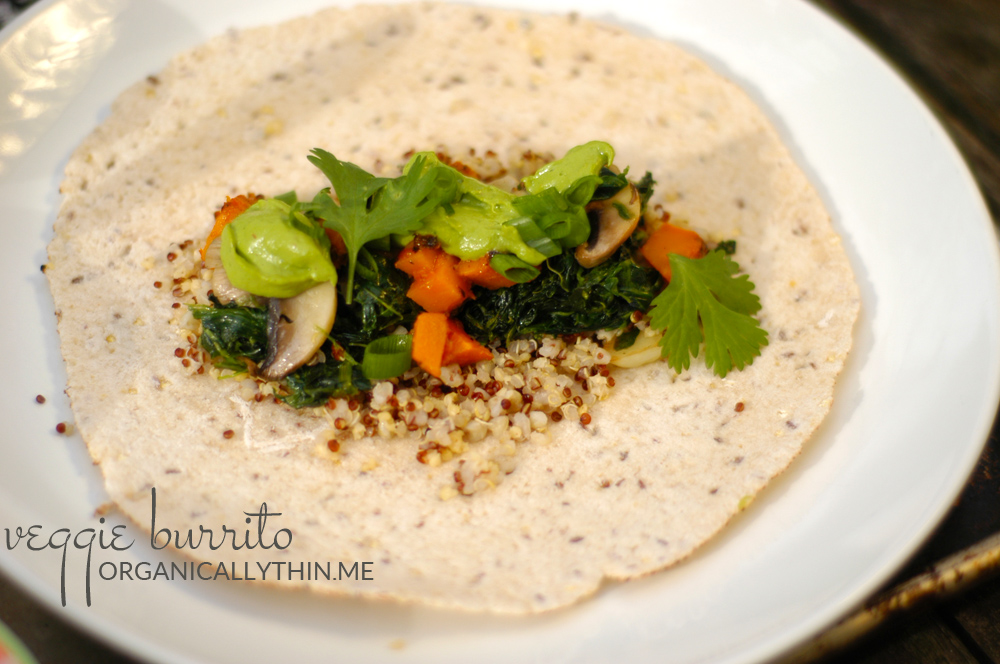 Ingredients:
6 Whole grain tortilla
Small pumpkin,  butternut squash or sweet potato
Olive oil
1 Box frozen spinach, defrosted
10  mushrooms, sliced
1 cup quinoa cooked
5 cloves garlic
Sauce:
1/2 Avocado
3 Scallions
1 Clove garlic
Handful Parsley
1 tsp Apple cider vinegar
1 tbls Olive oil
Salt & pepper
Cut small pumpkin into wedges.  Drizzle with grapeseed or olive oil and salt & pepper and garlic powder.
Roast at about 300 (convection works well here) for about 25-30 minutes until tender.  Let cool so you can comfortably handle.  When cool, cut pumpkin away from skin and cube.
Prepare quinoa according to package directions.
Saute 4-6 cloves of garlic in about 2-3 tablespoons of olive oil add a handful of sliced mushrooms and 1 defrosted package of frozen spinach (or fresh if you have it!) Saute together for about 10 minutes on medium.
Into your vitamix or food processor add:  1/2 avocado, 1 tbs olive oil, 3 scallions, handful of parsley, 1 clove garlic, 1 tsp apple cider vinegar, salt and pepper.. water to thin to desired consistency… thin enough to drizzle as a sauce on top.
You are ready to assemble your burrito!