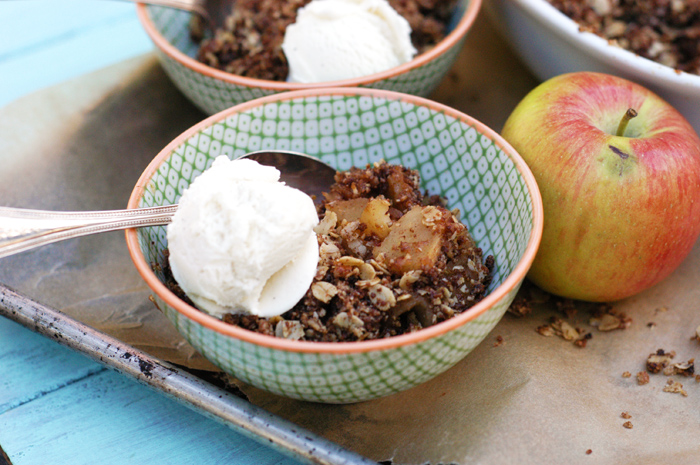 Fruit crisps are lovely ways to celebrate the Fall Holidays. A crisp can be much lighter and healthier than a slice of pie. Please feel free to play around with different sweeteners. I chose to use coconut sugar and maple syrup, but you could use agave, stevia, honey… whatever your mood might be.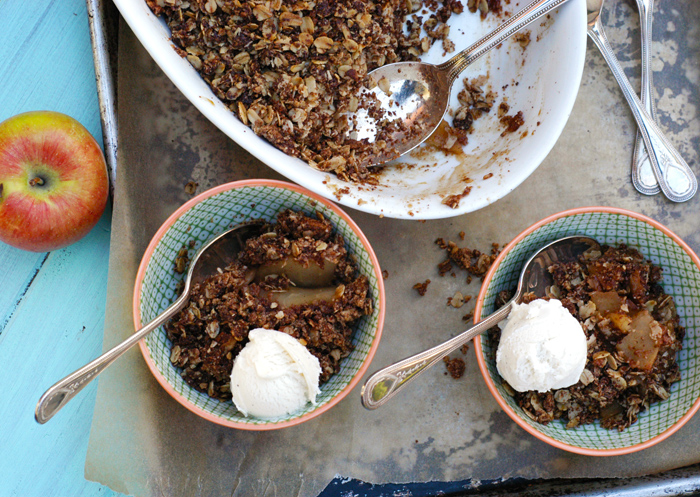 Preheat oven to 300 makes roughly 10 servings
For the apple filling:
6 apples
1/2 tsp cinnamon
3 tbs coconut sugar
3 tbs maple syrup
sprinkl of sea salt
For the crisp topping:
3/4 cup gluten-free oats blended in vitamix or food processor to make oat flour
3/4 whole gluten-free rolled oats
1/4 tsp salt
1/4 cup coconut sugar
1 tbs cinnamon
8 tbs melted virgin coconut oil
1 tbs maple syrup
2 tbs flax meal
1 cup chopped pecans
Slice and peel apples, add cinnamon, sugar, syrup and salt to a large bowl and toss apples until coated. In a separate bowl add all of the ingredients for the crisp. In a casserole dish add the apples, then top with the crisp. Bake for about 1 hour (maybe a little more if it looks to blonde). Check it a few times, to make sure your oven is not too high… the crisp is delicate and can burn easily. At the very end I turn on the broiler for 1 minute to brown the top.